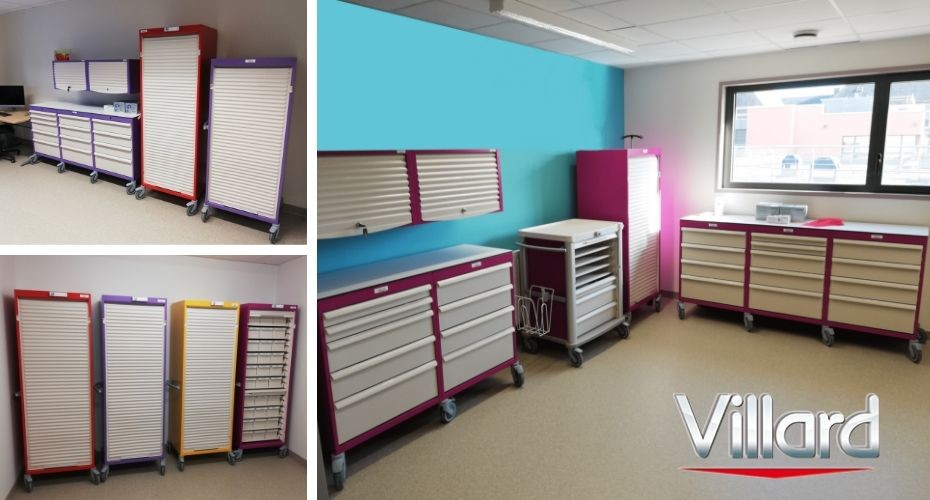 The Saint Riquier Establishment of accomodation for dependent old persons (EHPAD) choosed VILLARD MEDICAL to equip its care rooms of its new building
Villard Medical collaborated with the team of Saint Riquier (France) Establishment of accommodation for dependent old persons (EHPAD) for the layout of its new building care rooms. Realized in partnership with the central purchasing office UGAP, this equipment project has been put into service in September 2018 in one of the biggest EHPAD of the Somme region. From the preparatory meeting until the installation of the selected equipment inside the care rooms, our sales manager in collaboration with our research unit and our logistic services help the Saint Riquier EHPAD in this project.
Villard Medical, partner for your projects.
Since more than 70 years, Villard Medical has been partner of hospital construction projects. The company helped the economic services of Saint Riquier EHPAD - in partnership with UGAP - for selecting, delivering and installing the modular equipment for the arrangement of the care rooms of the new building « Mauguille ».
The care rooms are now equipped with mobile and ergonomic solutions that improve the working conditions of the caregivers. It allows a standardization of the equipments for the whole care rooms and brings together the teams around the same function.
Villard Medical solutions implemented: 
•  Eolis® Cabinets
•  Medication carts
•  Workstations
•  Wall cabinets
•  Linen cabinets
•  Emergency carts
> Discover the Eolis® modular equipment range by clicking here.
You want more information concerning this equipment project ?
You want to know more about the equipped construction projects of Villard Medical ?
> Contact the export sales team of Villard Medical: +33 285 290 506. 
About Saint Riquier EHPAD.
The Retirement Home of Saint Riquier is an independent public establishment (hospital public service) of Somme region. 
As a medical and social establishment, the retirement home has the purpose of ensuring the best living conditions, support and care in respect of the person and its choices. The Saint Riquier establishment has an authorized capacity of 186 beds including eight as a temporary accommodation..
> To know more about Saint Riquier EHPAD, click here.